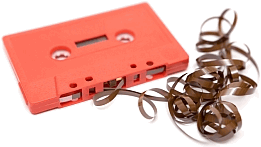 Other Services
Cassette Tape Repair - snapped tapes can usually be made playable again, and even mangled tapes can usually be repaired with only a few seconds of lost audio.
Funeral Memorial Slideshows - A tastefully produced slide show is a fitting tribute for your loved one, to be shown at the funeral or memorial service. We can create a slide show using your digital or printed photos. Video clips can also be included, if available.
CD or DVD ripping - No longer have a CD or DVD player? We can compile the contents of your CDs and DVDs to a USB hard disk drive.
Editing - cut out unwanted sections of your audio or video.
Compiling - audio or video from multiple sources combined onto one CD, DVD or USB drive.
Tape Baking - processing to make squealing and shedding tapes playable again.
Noise Reduction - reduction of background noise and increasing clarity of the audio for forensic or other applications.
Training - One-on-one training and expert assistance to help you use that new piece of audio or video editing software, or digital recorder, or video camera, etc, etc, etc.