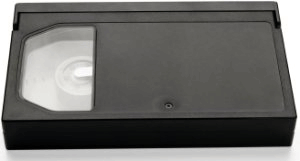 Betacam and Betacam SP to DVD transfer
Betacam tapes come in two sizes and have a few variants.
The smaller sized Betacam cassettes look just like domestic-grade Betamax cassettes, but the way the signal is recorded on the tape is completely different.
Betacam evolved from the domestic Betamax tape, but is considerably more advanced, giving much better quality.
Betacam SP was a further refinement of the format, again using the same sized cassettes but with broadcast quality.