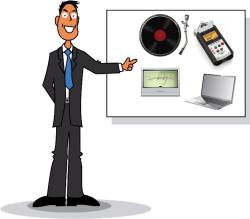 Training
Have you bought a new piece of audio or video equipment, but don't quite have the hang of using it?
Have you downloaded Audacity, and even gone to YouTube to see how to use it, but still can't get your head around it?
Do you have a record player and a computer but don't know how to link the two together so that you can copy your vinyl records?
One-on-One Assistance
There is no substitute for one-on-one expert assistance.
Andrew Host can spend time teaching you how to use that piece of audio editing software, or that new digital recorder, that new video camera, or help you get your record player connected to your computer.
Contact Us
Phone now on 02 8094 1212 to discuss with Andrew how he can help you with your particular training needs, or send us your details and we'll contact you.
The information you enter will be stored by CD Makers only for purpose of assisting you with your enquiry. We will never pass on your contact information to any third party.