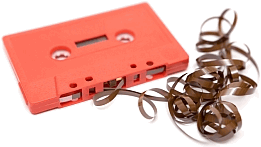 Audio Cassette Tape Repair
Audio cassette tape is flimsy and easily damaged. And there are many causes of tape damage.
Sometimes parts within the cassette shell perish which can cause the tape to jam. This can then cause the tape to break.
Other times, dirty heads and capstan shafts within the cassette player can cause the tape to wind itself around the capstan shaft.
Another common fault is a problem with the take-up reel motor, which means that the tape is forced to move by the capstan and pinch-roller, but it has nowhere to go because the take-up reel stops working. This will result in tape scrunching up everywhere inside the machine.
The good news is that CD Makers can repair most broken audio cassette tapes.
Of course, if the damage is severe, some of the original audio may be permanently lost, but at least most of the tape will be able to be transferred to CD.