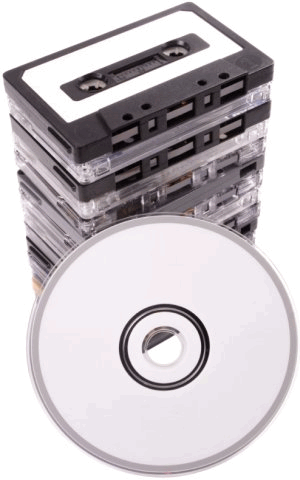 Compiling and Editing
With over 30 years of professional audio post production experience, Andrew Host, owner of CD Makers, is well equipped to compile your audio and video from a variety of sources, or edit to your precise specifications.
CD or DVD Ripping
If you no longer have a CD player, we can convert your audio CDs to audio files on a USB drive, subject to copyright.
Likewise, DVDs can be converted to video files if they are DVDs you have created the content yourself. It is illegal to copy from DVDs that have been commercially produced without permission from the copyright owner. And it is illegal to circumvent any copy protection mechanism that exists on a DVD, so please don't ask us to copy your purchased discs.
We extract the data from your discs manually, one at a time. If you have a large number of discs, we will not be able to rip them cost-effectively. There are other places that use automated methods to extract the data from large quantities of discs.
Copyright

Australian copyright law says that commercially produced tapes can be copied for personal use only under strict conditions.
CD Makers is very strict with copyright. For us to compile or edit your audio or video, you or a member of your family must be the creator and the performer of the works that are recorded.
Otherwise you will need written permission from whoever owns the copyright.
Please view our Copyright information
Contact Us
Phone now on 02 8094 1212 or send us your details and we'll contact you.
The information you enter will be stored by CD Makers only for purpose of assisting you with your enquiry. We will never pass on your contact information to any third party.